Lima Gulf Bravo Foxtrot Juliet Bravo
Granted this vehicle is pretty much done, but I thought I would put it all in one place. There are still a few mods I plan for this truck. Most of them are centered on making it a better base camp vehicle.
How it sits today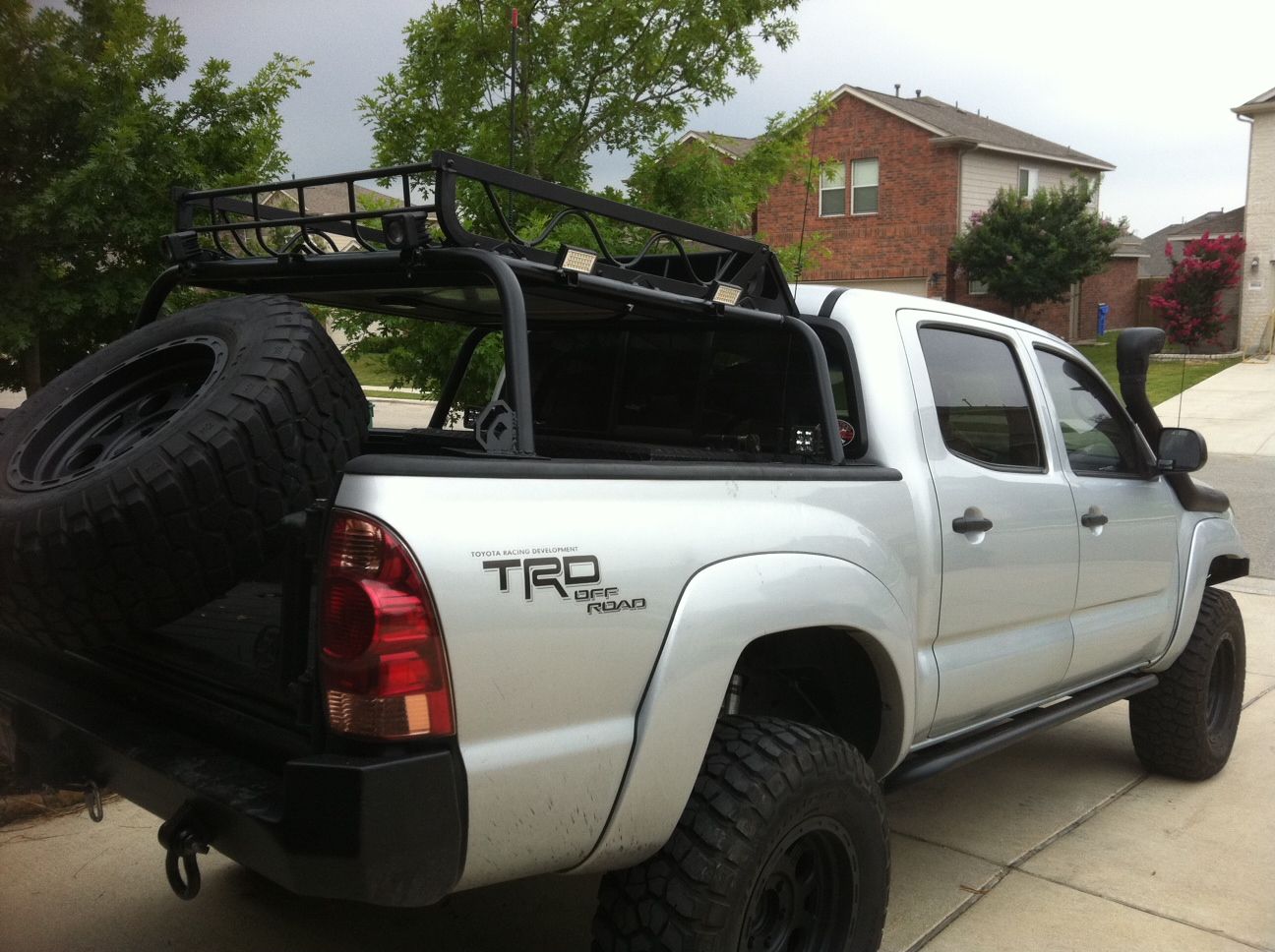 Base: 2007 Tacoma double cab 4x4 with the TRD Offroad package.
Suspension mods:
Fox 2.0 Remote Reservoir shocks front and rear
16" Eibach 650# coils up front
Total Chaos 1" Uniball UCA's
Total Chaos spindle gussets
OME Dakar leafs
OME D29XL extra leaf for Dakars
AllPro U-bolt flip with provision for Timbrens
Timbren bumpstops in rear
Wheelers SuperBumps up front
AllPro Axle relocation plate – modified to compensate for "Taco Lean"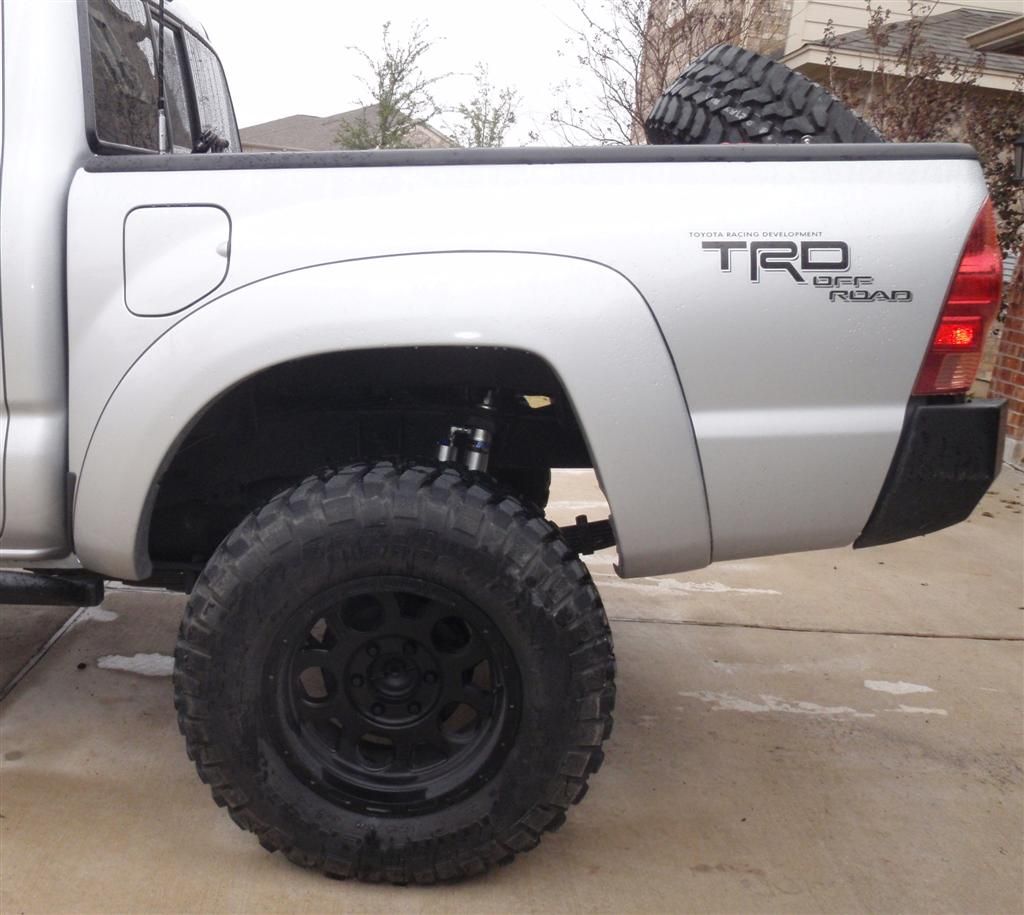 Wheels and Tires:
285/70/17 BFG KM2 Mud Terrains
17x9 KMC Enduro rims
Armor:
Bud Built skids – IFS, Transmission,T-case and Fuel tank
AllPro e-Locker skid
Sky OffRoad Diff armor
Shrockworks sliders
Total Chaos LCA skidplates
Bumpers:
Brute Force Fab front bumper
Rocktec rear bumper
Braking:
Goodridge extended Stainless Steel brake lines F&R
PowerStop Extreme conditions pads
Powerstop vented, dimpled, and slotted rotors
Interior:
Classic Soft Touch leather
Lotek a-pillar pod
Autometer transmission temp and oil pressure gauges
ScanGauge II
Second factory fog light switch to control rock lights
12VoltGuy In-Cab winch controller / dual battery controller
Garmin Nuvi 1490 with 24000:1 Topo maps loaded in a RAM Mount
Garmin Montana 650 with 24000:1 Topo maps loaded in a RAM mount
Bracketron mount for iPhone
LED Lenser P17 MagLight style flashlight on driver seat
LED Lenser P5 in center console area
12 volt outlet in center console
Matching Cortura switches for ARB locker, Compress and LED rock lights
Cobra WRST75 Handheld CB
Kenwood TM-271 2M radio
2.5lb fire extinguisher held by Gorilla Fists
Weathertech's F&R
8 ton bottle jack in place of factory unit
Adventure Medical Kits first aid kit w/ CPR mask and suture kit
Cobra iRadar - Radar detector that integrates with iPhone
ARB 47l fridge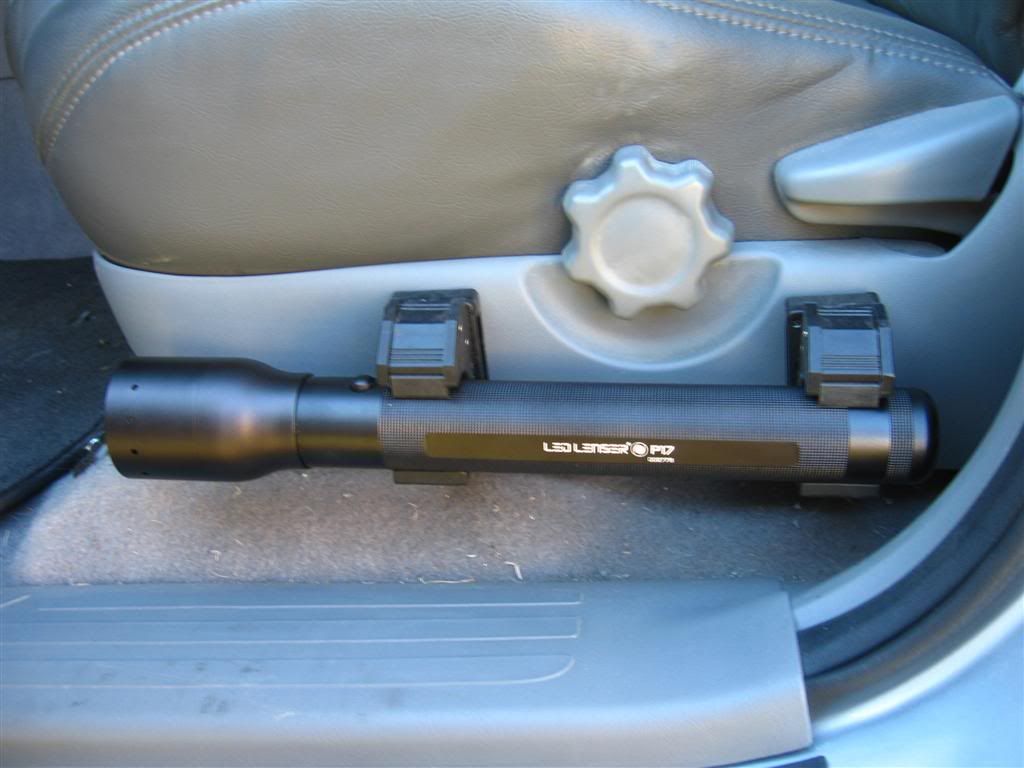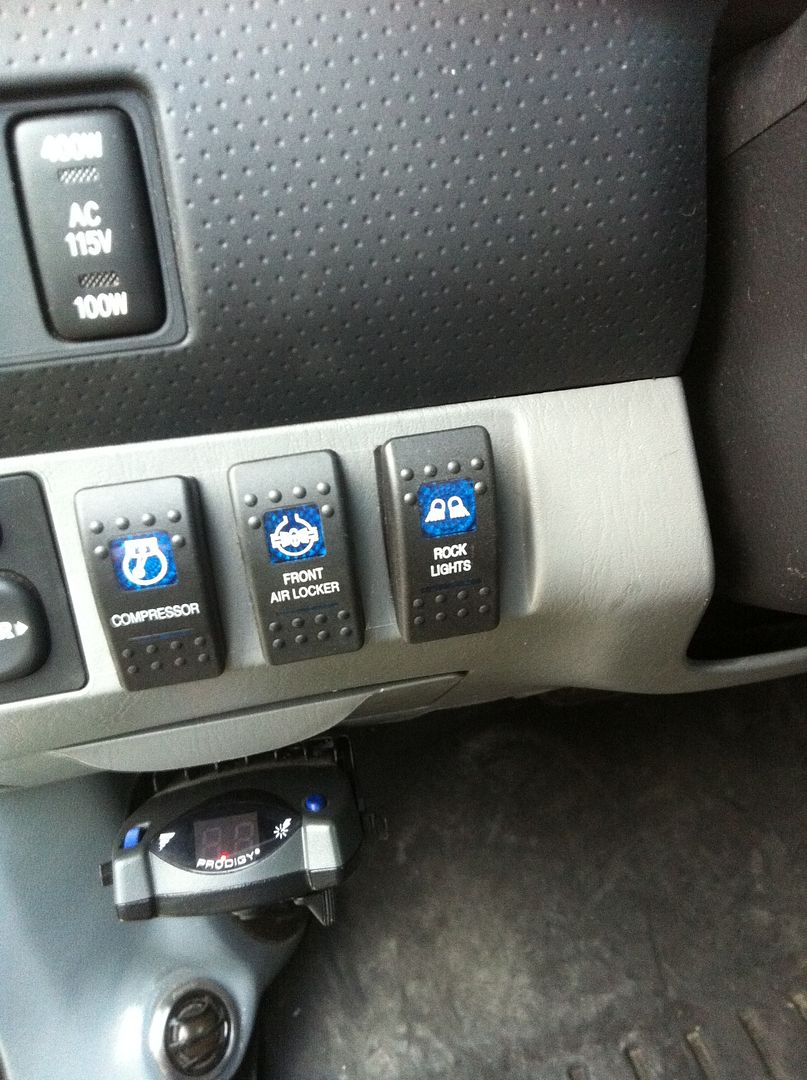 Stereo:
Kenwood Excelon KVT696 DVD headunit w/ Bluetooth module, backup camera, iPod interface and steering wheel controls/
160Gb iPod Classic
AudioControl DQX digital 30 band EQ, 3 way X-over
AudioControl DDC Digital Dash Controller for DQX
Alpine PDX 4.150 amplifier – runs mid-bass, and mids/highs.
Alpine PDX 1.600 amplifier
Q-Forms kick panels – highly modified and fiberglassed in
Morell Tempo 5 5.25" components speakers
Morell 8" woofers – mounted in doors as mid-bass
Pioneer Premier 12" subs
Supercrew sounds sub box – highly modified with lots of fiberglass and deadening. Covered in black vinyl.
Dynamat Extreme – 3 layers on front doors and on the floor and back wall of cab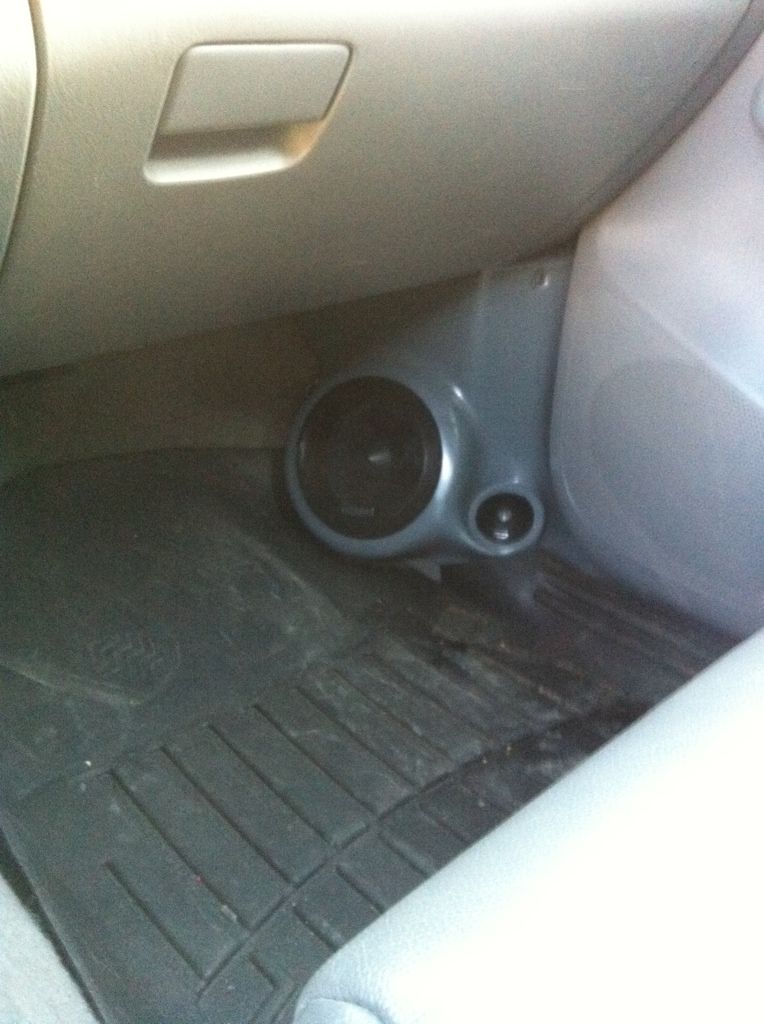 Bed:
Toyota OEM bedmat
UWS 36" black aluminum chest
LED lighting inside chest
LED lighting in bed
5 gallon fuel can and custom built carrier
4 extra factory D-rings
Utlili-Track tie down rails
60" HiLift Extreme
HiLift 4xRAC mounting brackets
Firestick aluminum CB antenna mount – modified to fit in bedrails
Firestick aluminum 2M antenna mount – modified to fit in bedrails
2 bicycle fork clamps attached to top of UWS chest
stainless cabinet locks on storage boxes
Homemade tiregate style tire carrier complete with Toyota logos and a beer bottle opener.
BuiltByMe bed cage w/ basket
85 watt solar panel
4x VisionX LED utility lights
2x LED floods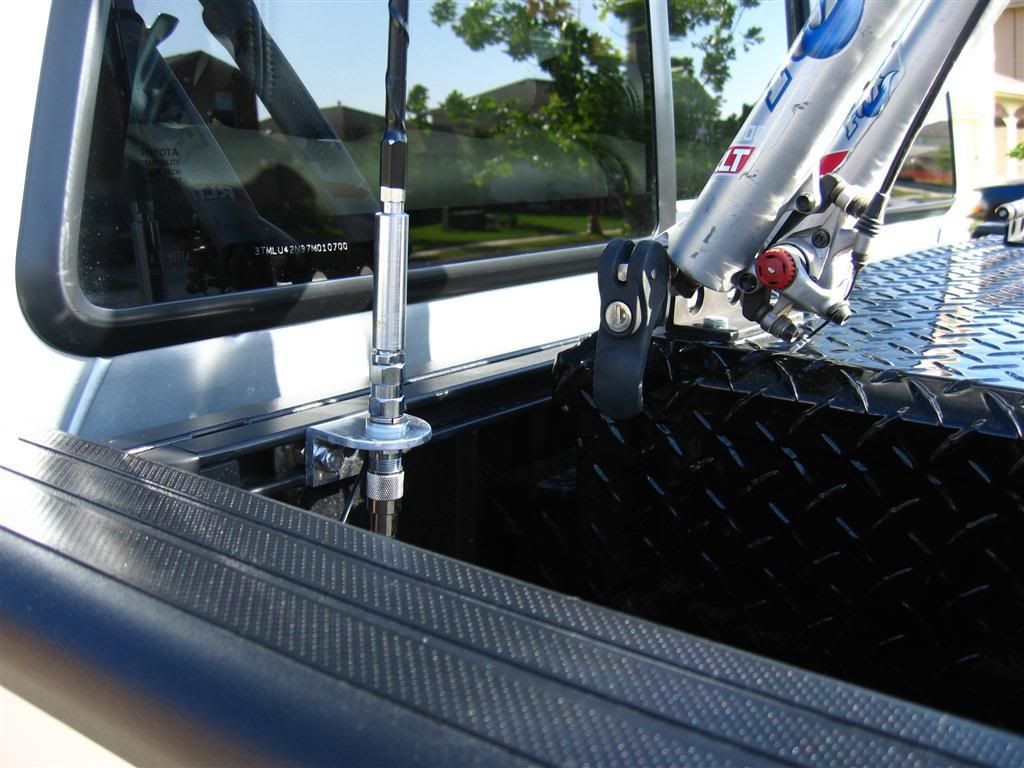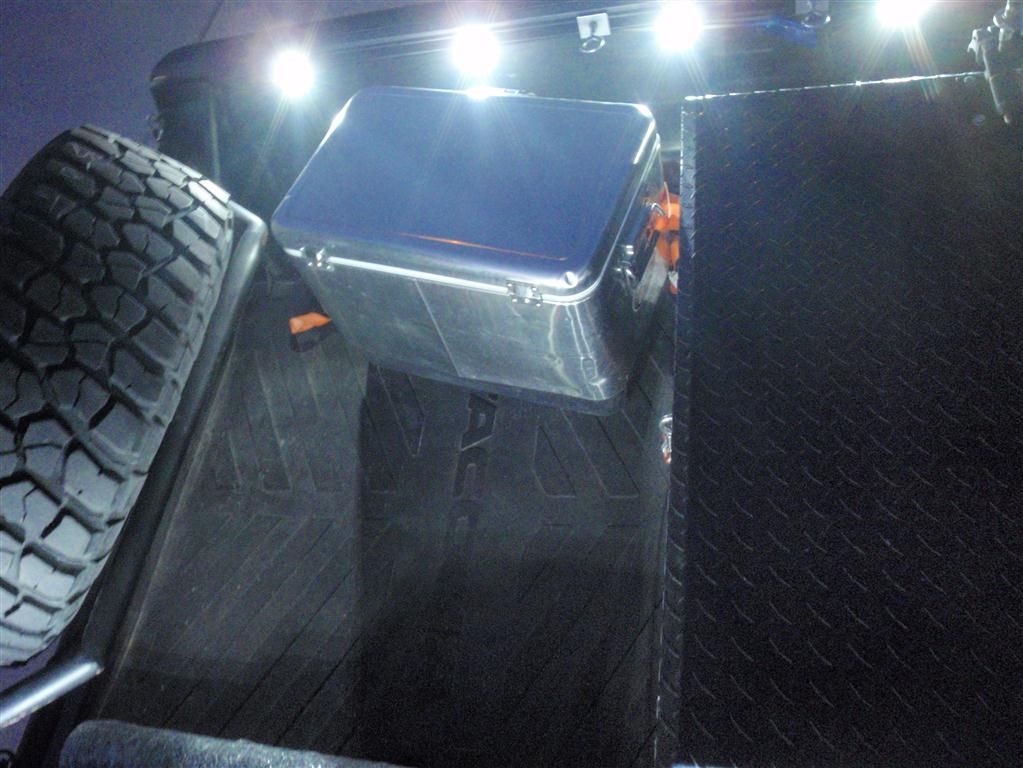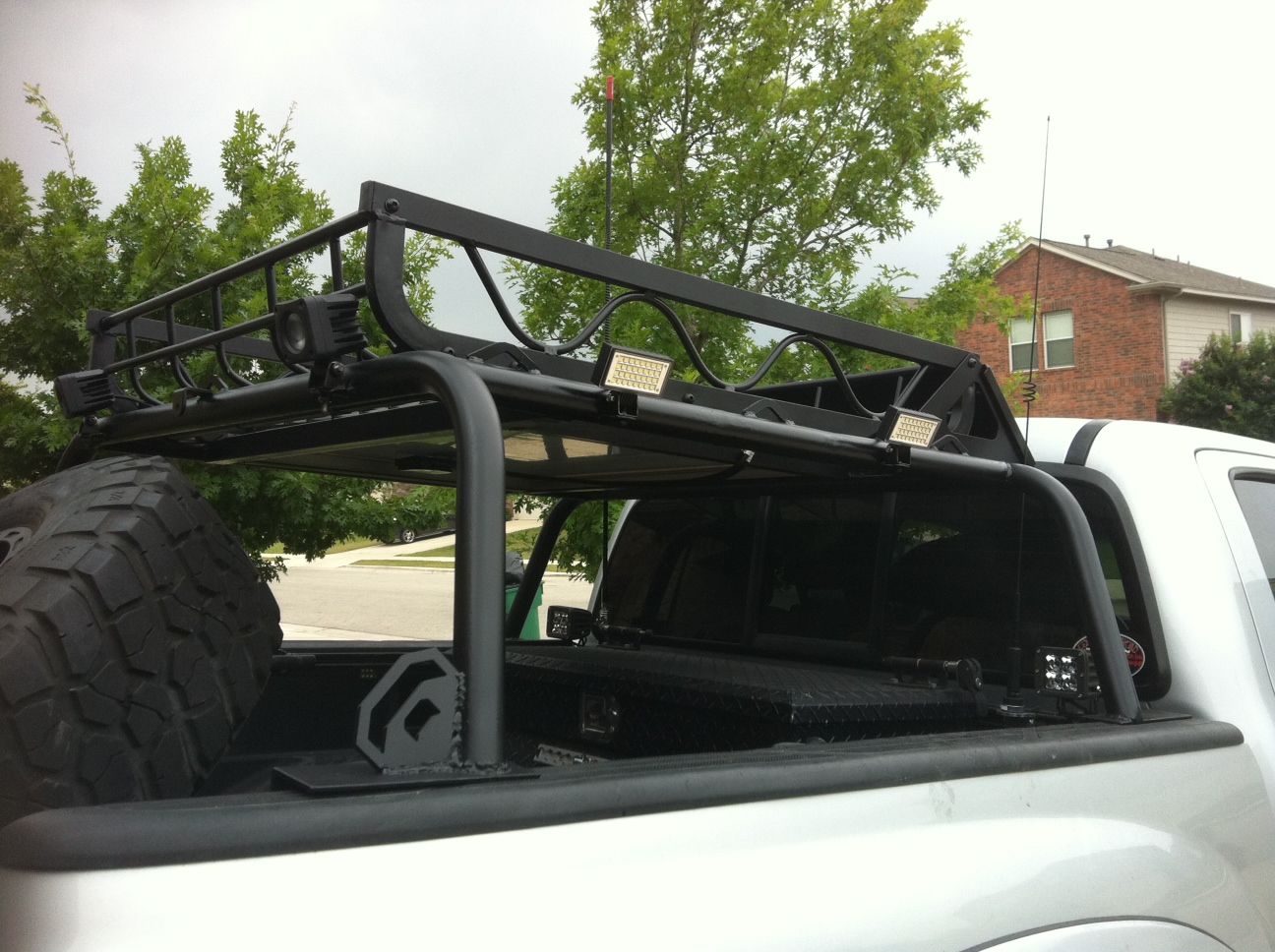 OBA setup:
Oasis HP1000 air compressor
Oasis 1 gallon tank
Oasis adjustable pressure switch
Kilby air manifold
3/8th's pressure regulator
12 volt power:
Diehard Platinum battery in OE location – equivalent to an Odyssey PC1750
DieHard Platinum Marine battery in Summit Racing battery box – equivalent to an Odyssey PC1500DT
PulseTech PowerPulse battery maintainer
gold plated terminals
Kicker terminal blocks and fuse holders
BlueSeas fuse block
Vector 2500 watt inverter with in-cab controller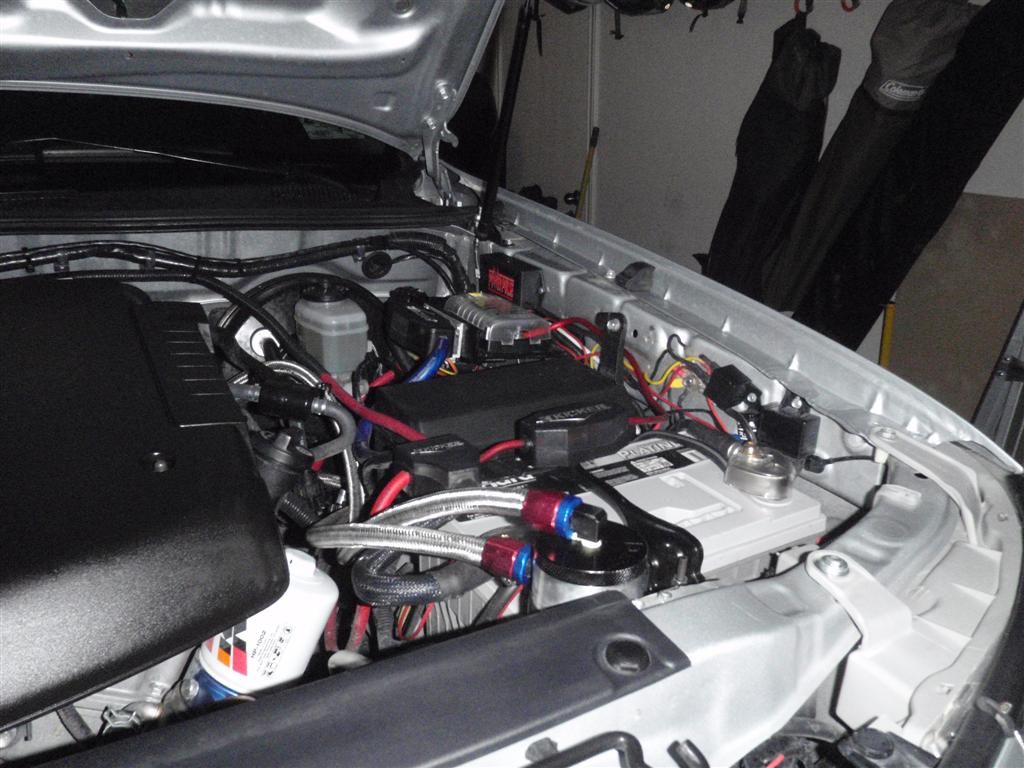 Misc:
4.56 Nitro gears F&R
ARB air locker up front
RCV Ultimate Tacoma axles
VisionX 35 watt LED fog lights
TWF 30" LED light bar
Modified crossover exhaust to clear skids
Tom Woods CV driveshaft plus a spare Tom Woods CV driveshaft
AMW PCV catch can
ARB Safari Snorkel
K&N air filter
Relocated differential breathers
Relocated solenoid box
all airlines are 3/8th's braided stainless lines
All battery cables are 0 ga.
color matched grill surround
GrillCraft grill
FJ60 TOYOTA emblem
SockMonkey black and dark gray TRD decals
Debadged
LED backup lights under truck
LED rock lights
LED lit 4WD selector switch
bumper mounted BBQ grill
All body panels except roof have been repainted at least once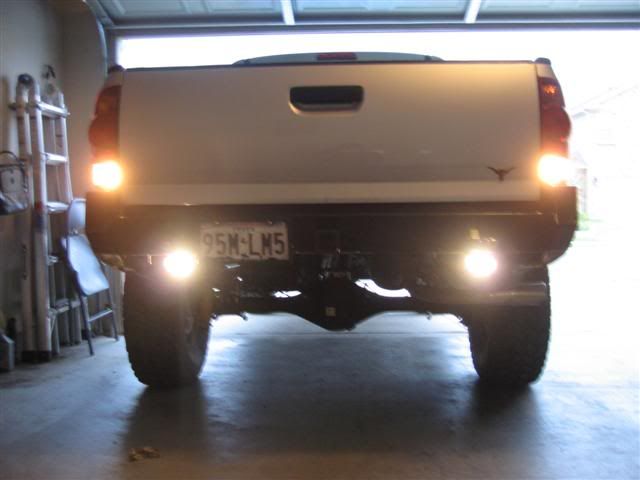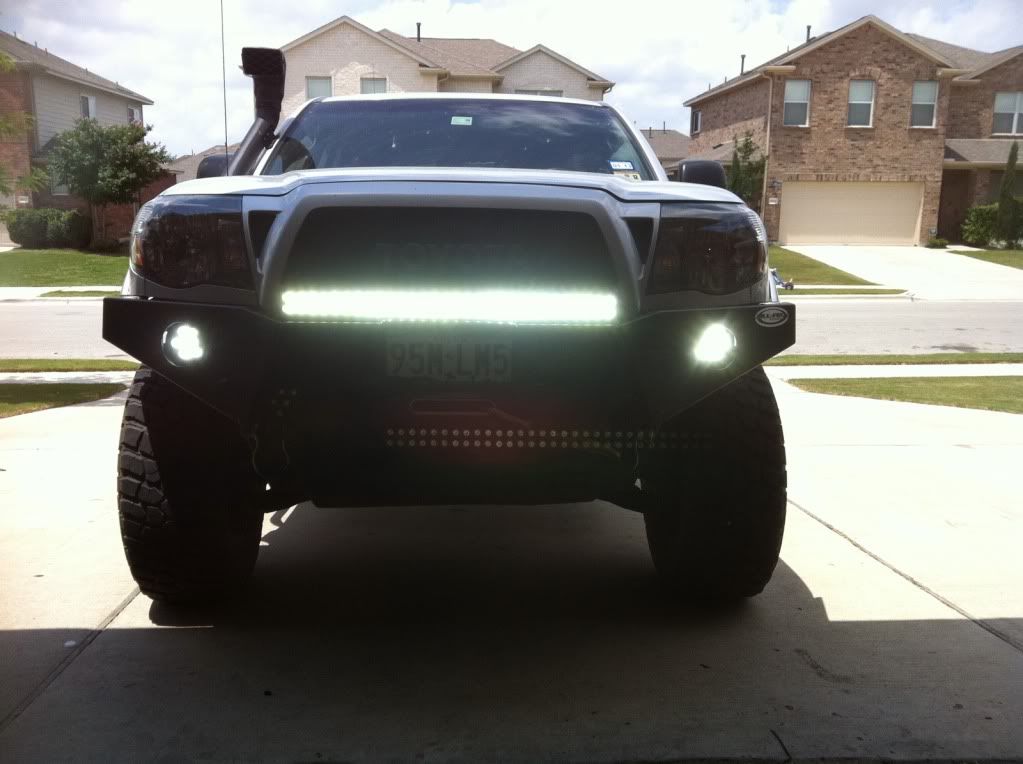 Recovery gear:
Warn M8000 winch - clocked the handle to be more accessible
MasterPull Superline
HiLift HandleAll
HiLift Winch kit
Slee Jack-Off-Tool
Rescue 42 JackMate
8 D-shackles
2"x30' ARB Recovery strap
3"x30' ARB Recovery strap
3"x10' ARB tree strap
3"x16' ARB tree strap
3/8th's x 20' grade 70 recovery chain
ARB snatch block
Warn snatch block
Full hand tool kit
Air tools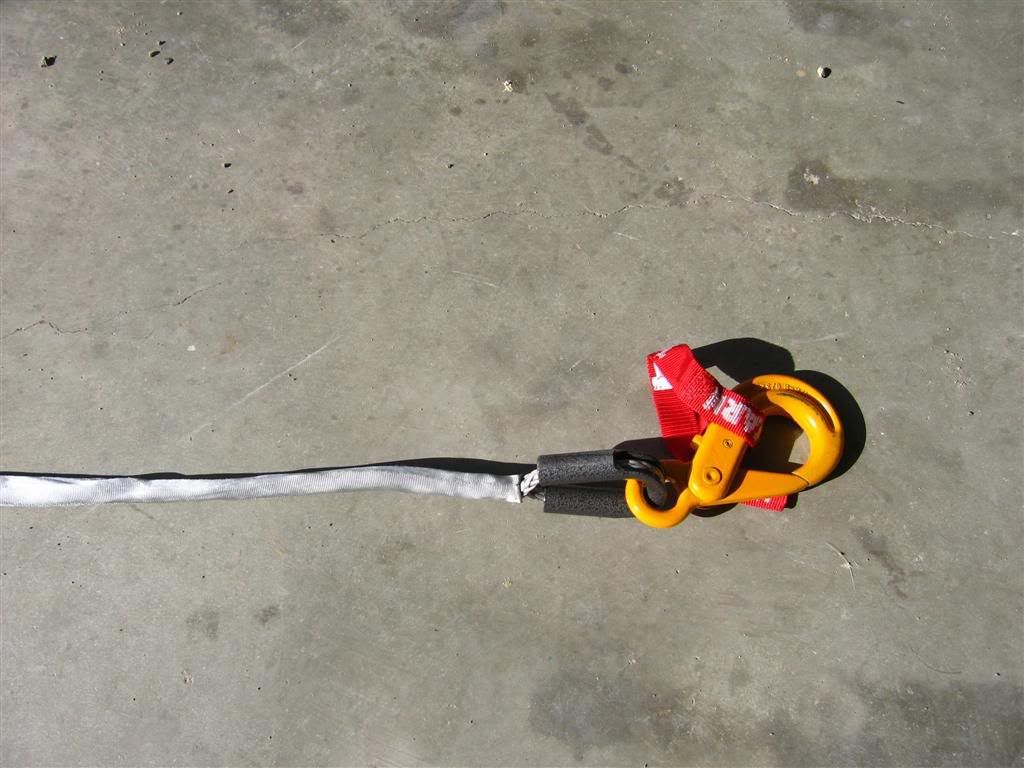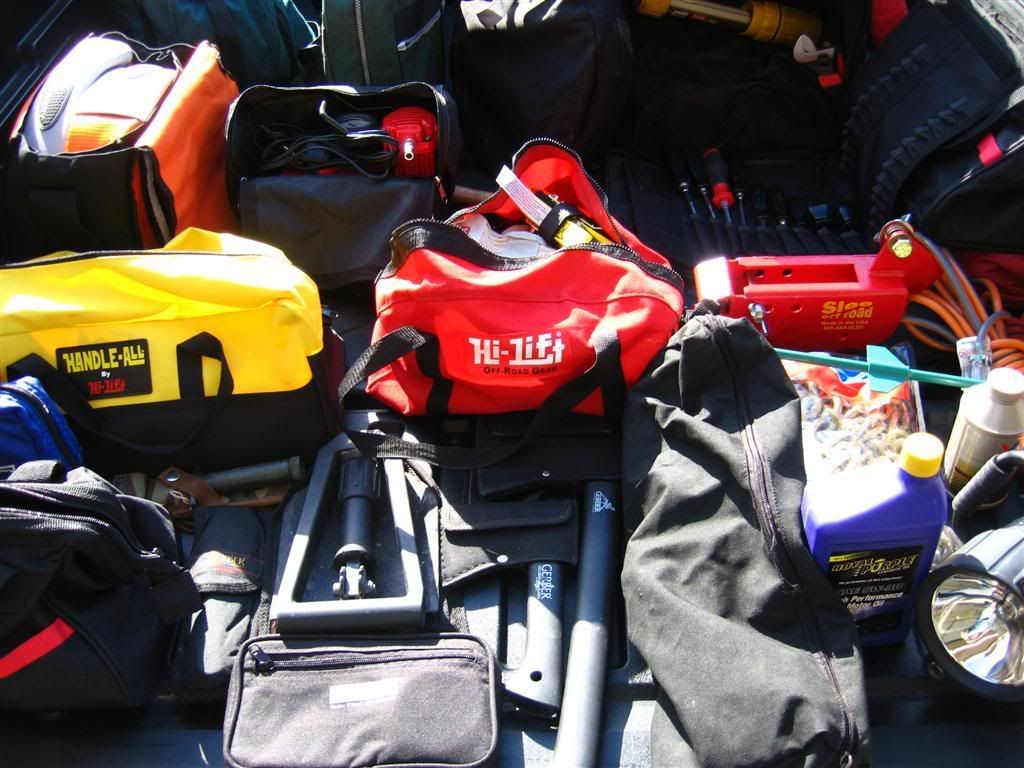 Last edited: